340B SMART™
Automatically split and track replenishment orders for eligible medications into multiple accounts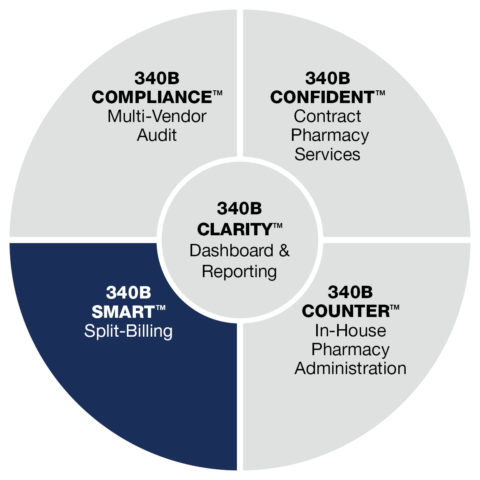 Are you…
Struggling with the ability to separate 340B from non-340B patient transactions?
Staying compliant to drive 340B program value.
340B SMART gives covered entities the ability to track dispensing of all 340B medications to your qualified patients from all qualified sites, ensuring accurate and compliant processes and uncovering missed opportunities. The solution encompasses a 3-way Split Purchasing System, that accumulates dispenses in WAC, GPO, and 340B while staying compliant with 340B regulations.
You can count on Wellpartner:
Accumulator
340B SMART monitors each dispensation by patient, physician, and site of service
Accumulates the number of dispenses by NDC number
Notifies the user when it reaches the required package size
Split-Billing
340B SMART creates separate purchase orders for the entity's 340B account and the GPO account based on dispensing criteria
340B SMART communicates directly with the wholesaler's computers to place and confirm separate orders as well as identify back orders
Inventory Management
340B SMART creates a virtual inventory of your 340B and GPO medications
Increases efficiencies by eliminating the need for a manual system and maintenance costs of personnel
Built in reporting system to track dispensing, purchases, and inventory tracking, while detecting outliers
Simplify inventory management and optimize pharmaceutical usage with line-of-sight to all 340B accumulations and replenishment activity
Maintain precise levels of 340B medications in virtual inventory to avoid over-replenishment of inventory and higher carrying costs
Ensure accurate and compliant processes, while uncovering missed opportunities
Flexible reporting provides detailed accumulations and replenishment
Be split-billing SMART…we can help. For more info or to schedule a demo: