340B COUNTER™
A customizable 340B solution for both Covered Entities in-house split-billing and contract pharmacy program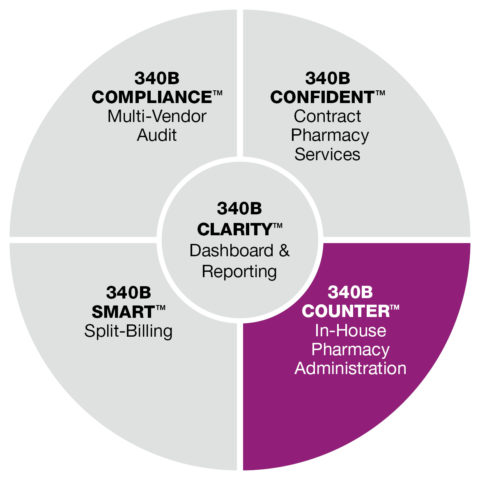 Are you…
Struggling with the challenges and administrative complexities in navigating the 340B program?
Your strategic partner to drive 340B program value.
A successful 340B contract pharmacy program has many moving parts and requires a high level of expertise to achieve effective administration and stay compliant with program rules. Ensuring that 340B drugs are used only for patients who meet specified eligibility requirements, especially in mixed-use environments; where both 340B eligible and ineligible patients are served can be challenging and administratively burdensome.
Wellpartner's COUNTER solution facilitates and manages inventory and replenishment in these complex environments. Counter can be configured with our strategic partners' split billing software, integrated with existing custom or off-the-shelf split billing systems, and also be configured to integrate with drug wholesalers' purchasing/inventory systems.
You can count on Wellpartner:
Ensuring seamless integration with any data system for accuracy of 340B eligibility
Interfacing to major wholesalers to support customized ordering processes
Providing full inventory management, replenishment and reconciliation tailored to the needs of the pharmacy
Enabling you to perform filtered and detailed analysis for complete Rx history, financial breakdowns and qualification details
Partnering with a trusted leader in 340B program management, with over a decade devoted to successfully serving covered entities
Achieving compliance with confidence by avoiding diversion, duplicate discounts and inappropriate claims classification
Facilitating a full split-billing solution through strategic partnerships
Dedicating an account management team to educate, support and provide ongoing guidance every step of the way
You can count on us. For more info or to schedule a demo: