340B CONFIDENT™
Contract pharmacy administration using proven claims methodology to optimize 340B program value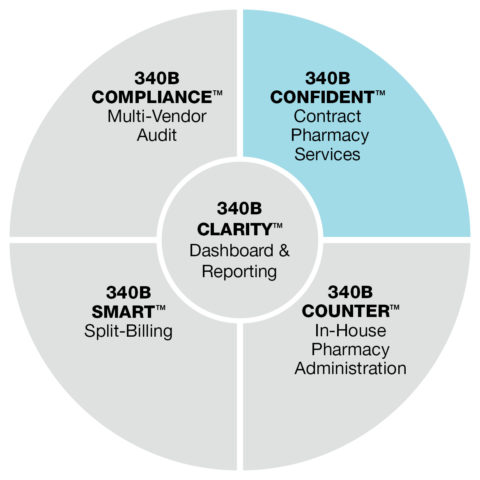 Are you…
Overseeing your own contract pharmacy negotiations and ongoing management effectively? Needing to establish a contract pharmacy network that closely aligns to utilization patterns? Integrating data across various systems that impact 340B eligible prescriptions? Exploring ways to work with a partner that can truly maximize 340B eligible claims capture?
Confidence that drives 340B program value.
Wellpartner's proven expertise in pharmacy network contracting, registration and management enables us to work with each of our clients to configure a solution that will optimize their 340B program. Our complete 340B contract pharmacy solution provides administration services and builds pharmacy networks to drive program value.
You can count on Wellpartner:
Expertise in pharmacy network contracting, registration and ongoing management
Full inventory management, including replenishment and reconciliation
Dedicated account management to oversee program performance and keep clients informed of industry changes and product enhancements
Claim-level detail reporting including identification of pending claims for additional follow-up
Access to the broadest specialty pharmacy network, as Wellpartner builds a system to meet your needs
Unsurpassed regulatory and compliance expertise
Confidence in achieving compliance by avoiding diversion, duplicate discounts and inappropriate claims classification
Our dedicated account management team will educate, support and provide ongoing guidance every step of the way
Be confident…we can help. For more info or to schedule a demo: