340B COMPLIANCE™
Automatic validation of 340B claims for Covered Entities using multiple vendors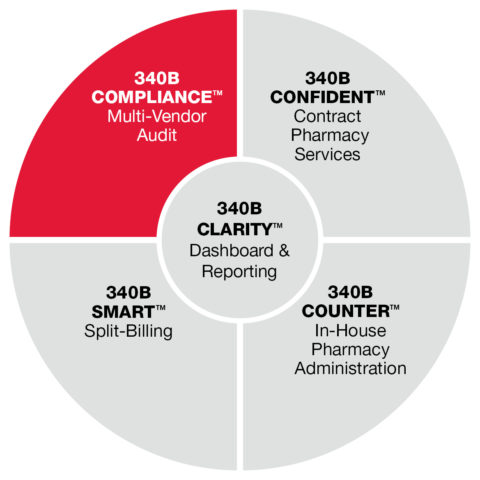 Are you…
Concerned about avoiding common pitfalls that trigger audits? Prepared to prevent duplicate discounts and diversion? Concerned about how program integrity is being maintained by multiple 340B contract pharmacy administrators?
Compliance that drives 340B program value.
Since initiating annual audits in 2012, HRSA has continued to increase the number of audits each year, highlighting the need for covered entities to respond to changes in 340B program guidance and rapidly ensure their internal policies and procedures remain compliant.
We've got you covered when it comes to ensuring 340B program compliance with our unprecedented solution that analyzes claims from multiple contract pharmacy administrators, and identifies those that are ineligible.
You can count on Wellpartner:
Automating integration of all data sets required to determine claim eligibility
Identifying claims which do not meet 340B eligibility requirements
Providing detailed explanations for invalid and valid claims qualification
Streamlining corrective actions to comply with program requirements
Creating the ability to validate accuracy of 340B claims from multiple administrators
Ensuring the highest level of program integrity
Providing transparency, program oversight and audit readiness support
Increasing efficiency of administrative responsibilities
Be compliant…we can help. For more info or to schedule a demo: