Wellpartner is the authority in 340B program management. A trusted partner that provides not only the best technology and broadest set of services, but understands the complexities of your business.
We're your strategic partner when it matters most.
Solutions
Wellpartner provides a seamless, easy-to-use solution for covered entities currently or considering participating in the 340B drug program.

Dashboard Reporting Solution
Contact us to find out how Wellpartner can help optimize your 340B program
When we needed a partner to help us build our contract pharmacy network, Wellpartner provided us with the best solution that fit our needs and helped grow our business.
Customer service is important to us and knowing we have a dedicated person to respond to our questions was invaluable.
Driving value...when it matters most.
With Wellpartner's unsurpassed regulatory and compliance expertise; be confident in avoiding diversion, duplicate discounts and inappropriate claims classification.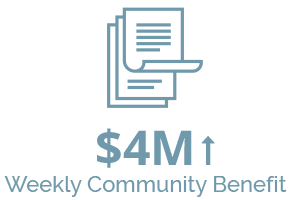 Wellpartner supports the 340B program mission in expanding access to affordable medications to those who need it most.  We help make this a reality for the entities we serve.
Wellpartner's extensive pharmacy network gives our customers a choice while driving program value and helping to grow their business.